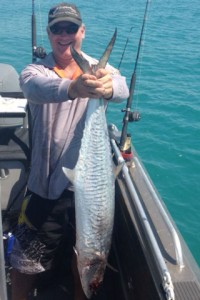 With all this humidity stuff going on you'd think the billabongs would be going off by now, but I'm yet to hear of anything suggesting the flood gates have opened. I'd say the full moon has had a lot to do with that because water temps are definitely up so there's no excuses other than fish feeding more at night than during the day. Give it a week or so and approach to the new moon should see all guns blazing on the inland scene.
Bluewater however is another story. CFW Staffer Mal Strong shot around to The Vernons this week for some jigging and bottom action as the neaps began to lean out. Mal said the hardest part was getting fish aboard the boat in one piece as the sharks were there in force. Drifting the deep channels found good sized Trickies, Goldies and the odd Spaniard down deep, whereas Smith Reef housed the Pelagic entourage including heaps of Tuna busting up around the boat.
Good reports of Jewfish taking squid baits at night came from Charles Point and Lorna Shoal. Most fish are around the usual 12-13kg mark.
The local standout is still Lee Point for a quick Mackeral assault. This year the tourists have been getting hammered by monster fish, destroying gear, loosing line, leader and even whole combos over the side. They are telling me that some of these macks are the biggest they've seen in ten years of annual visits to the territory.
Stokes Hill Wharf proved to be a good land based option last week. Again many fish were lost to the pylons but Queenfish and Trevally were landed following epic battles against the odds.
With water temps all good and coming off the neap, Id say The Daly might be worth a trip late this week. In fact, I might see you there….