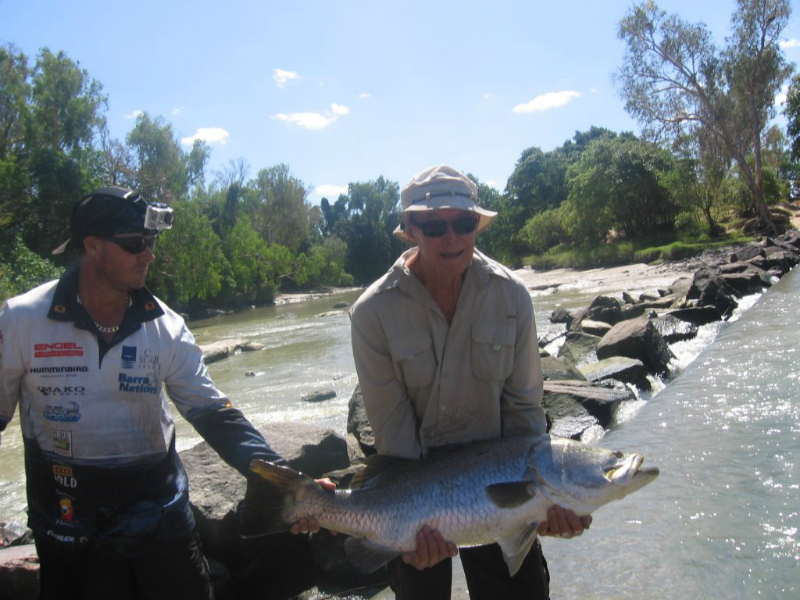 How many times a day do you think I hear…'So what are they catching them on?' With the barra scene currently playing a little difficult, your choice of product can often mean a fish or no fish.
Well, here's a quick skit on what stands out from the crowd at the moment.
Take a look at the ZEREK LIVE SHRIMP lure in both 89mm and 127mm sizes. Comes pre-rigged with weighted weedless hook, contains an inbuilt rattle chamber, Lumo eyes and segmented tail for realistic presentation. Best fished 'on the drop' and with a dead slow retrieve rate. Being weedless, it is perfect for drilling heavy timber but also right at home on the flats. Colours #03 and #08 seem the most popular given their natural colour schemes.
The THREADYBUSTER by Smokin Drags & Co. This soft vibration lure is constructed of stretch form elastomer plastic, is rigged using 49 strand wire to support the two VMC trebles and proves irresistible to almost every Top End species when presented correctly. I personally have had Barra sessions whereby if I hadn't had one on board, I would have gone home fish-less! Available in both 16gm and 20gm versions, you can be specific on sink rates. On the drop, these things dart and dive like a baitfish in real trouble and they jig with surprising action, no wonder they are so successful. Down-sides? With such positive hook-up rates, beware around heavy timber and always carry a lure retriever! In some circumstances it can pay to remove one treble.
Berkley GULP 3" Shrimps… By far the biggest selling colour is 'Green Prawn' and it is widely used on the harbour flats rigged with a 1/6oz jig head or Squidgy Resin head. Again, a dead slow retrieve will usually net best results.
Berkley NEMESIS GULPs are smacking some ripper reef fish of late. These things are a much livelier version of the standard JerkShads and can work wonders fluttering in the current without much manual labour from the angler at all. Best rigged on heavier Nitro Heads.
On the Tuna, the standout chromie is the all new Halco Outcast in 'redhead'. Small 20 gram versions are doing well cast into schools about the harbour. From the landbased locations, queenfish and trevally are responding to the 25gm Silver Gillies Baitfish retrieved at speed.
So there's just a few pointers of what's Hot at the moment. I hope it improves your catch!
Regards
Craig