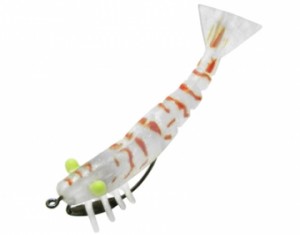 Well the new Zerek Live Shrimps have gone mad this week! These things have been nailing everything from Barra to Salmon, Cod to Goldies, Trevally to Quennies and more. Coming off the neaps was ideal for clarity and a bit of run all in one and these new lures were right on the money amongst the snags in Shoal Bay and twitching off the flats in Middle Arm. Biggest barra report this week went 88cm, from the far end of East Point….now that's not to be sneezed at!
Those landbased fisho's shouldn't be complaining either…..it's been pretty good from the top side of Shoal Bay all the way around to Dundee thanks to the humidity and subsequent water temps.
By all reports, Hardies Lagoon held the biggest fish during the SWB Challenge last weekend and it was the F18 Classics that were on the menu. Corroboree is also producing decent fish, but perhaps taking a little more effort to fool.
On the bluewater, Mackeral are still about but seem to be shrinking in size?? One crew went wide to Bateman Shoal but said it was tough going, with only a few Trickies about.
This weekend is just coming off the springs onto the neaps with Sunday the first of the small tidal runs for this cycle. Some say no run= no fun, so Saturday could be a happy medium for a reef fishing session. Close by, Rick Mills Reef would be a good choice…both drifting pilchards for Macks on the surface and bottom bouncing for Jew at change of tide providing for all possibilities. …play it safe and leave a spin combo loaded with a chromie in case of a sudden Tuna session.
Of course, the inland billabongs are a good day out without any concern for tides so I guess there aint any excuses!