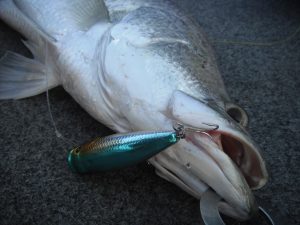 Some say that run-off is the prime time for barra fishing….I can't help but argue that the build-up is every bit as good and with the fishing reports out and about right now, few could argue. From the standout local haunt  Shoal Bay including King Creek and The Rock where there's been numerous 90cm plus fish landed, east to The Narrows at the Adelaide River Mouth and westward all the way to The Moyle the barra fishing has been extraordinary. Big coastal fish are on the prowl around our rocky headlands, on our shallow flats and in around our harbour arms. Just this morning, a mate and I fished a little section of mangrove lined edges within Woods Inlet and managed 9 barra for the morning on Reidys Junior B52's and 'walk the dog' style surface lures.  This is quite common for the build-up, particularly when there is little or no wind and a bit of water clarity happening. Get into it before the heavy rains spoil it!!
Inland, it's a bit of a guessing game depending on local rain. I've heard both ends of the spectrum from Hardys Billabong….real good and not so good, but it's still worth a crack by all means. Interestingly, in general  it's been the bigger lures (120mm) that have been cracking the decent fish lately.
On the reef scene, rubbly bottom close to Lee Point beach produced some ripper Snapper and Cod for a family crew early this week. Prawn baits worked best at top of the tide. Similar reports came from the upper reaches of Middle Arm with a few juvenile Jew to boot.
This weekend will see a bit of tidal run coming off the neap phase, so no doubt clarity will still hold up reasonably well. This will be good for almost all the coastal barra haunts and major rivers alike so I would expect good fishing. You might also notice it's only a few days away from the full moon which normally spells GAME ON for chasing a barra inland at night. The moon will be up early too, so it shouldn't mean an all-nighter….
Regards
Craig