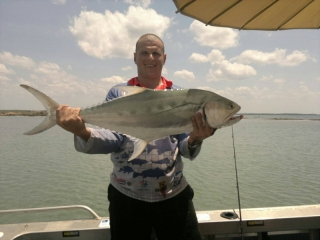 Talk about mayhem….Leaders Creek went nuts with metreys last weekend. Down around the mouth, it was game on for many fisho's and numbers of big Barramundi were caught trolling Classics and large Bombers. Anyone could've confused the mayhem with King Creek or Shoal Bay Rock but this time, good to know it was somewhere different! Having said that, Shoal Bay Rock still turned a few scales despite the fishing pressure over the good tides. One crew noted that casting didn't produce much at all and trolling tactics were the way to go. Maybe it's the 'cover more ground' theory or maybe the fish are hanging out a bit further away from all the boat activity…who knows…and will we ever really know? While I'm on the subject of Shoal Bay, Buffalo Creek has produced some monsters lately. Try 125cm!!! Does this place ever give up? It would seem not….
On the Bluewater, the Goldies have shown plenty of courage lately. Not only out wide, but close to home has been every bit as good. There's some real healthy ground off Emery Point that has seen big snappers in good numbers this month. Obviously, there's the odd theory that goes with it like tides, times and moons but that's all part of the game isn't it!
Dale from Good Sparks Electrical thinks he's worked it all out now following an overnighter at Channel Point. It was rough so his attempt to Bateman Shoal turned ugly and they conceded back close to the North Peron. That proved to be a good move, because in only 3 metres of water the 60cm Goldies were going crazy. Amongst the Golden brigade were Jewfish that busted plenty of tackle which made for a good story if nothing else.
Mal Strong from Craig's Fishing Warehouse hit some nice Queenfish in Darwin Harbour this week. In an early morning session, plenty of activity took place on the pelagics…many of which never made the boat, but nonetheless the Queenies that did surface went near on a metre long.
All in all, It's still good fishing out there. Keep one eye on the weather and the other on the rod tip…. It's likely to buckle up.
Regards
Craig